Subscribe: Google Podcasts | Spotify | Stitcher | RSS | More
Daniel Mezick talks with Jim about agile process & organizations, how agile scrums work, openspace tech, change management, leadership, authority, complex systems, and much more…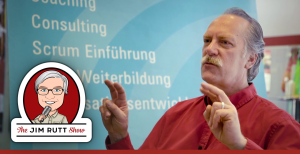 Daniel Mezick talks with Jim about how he got into business consulting & agile processes, what an openspace organization is & how it scales with business size/type, Jim's experience with agile, how an agile scrum is structured, the value of DevOps & product managers, types of agile processes & common pitfalls, learned helplessness, what openspace technology is & how it works, managing ambiguity & change management, inviting vs delegating as a leader, understanding authority & its connection to complex system functionality, boundary management, semiotics, and more.
Mentions & Recommendations
Daniel Mezick leads NewTech, a business management consultancy keenly focused on Agile transformation and Business Agility. He coaches executives and teams on how to get rapid, effective and lasting improvement. In his books and workshops, he teaches very specific ways to quickly and predictably get real and lasting results, by encouraging self-management at scale.