Subscribe: Google Podcasts | Spotify | Stitcher | RSS | More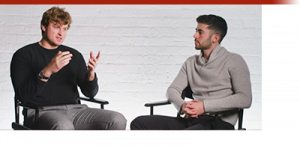 Jim talks with Henry Elkus and Sam Feinburg, founders of the global problem solving organization Helena. They discuss how Helena identifies society's big problems, the group's origin story, how they attracted a large membership of people who are first-class in their domains, facilitating The Covid Network to quantitatively prioritize supply distribution, creating the Shield Project to address dire vulnerabilities in the electrical grid, Energy Vault's method of gravity energy storage, over-siloing of issue areas & problem-solving modalities, why it's important to proliferate both social & hard technologies, and much more.
Henry Elkus is Founder and CEO of Helena. He cares immensely about creating systems that can be leveraged to enact global, scalable, and systemic change. Henry dropped out of Yale in his second year to lead Helena full time.
Sam Feinburg is the Chief Operating Officer and Executive Director of Helena. He cares deeply about building a fairer and stronger civilization for all in the presence of growing catastrophic and existential risks.