Subscribe: Google Podcasts | Spotify | Stitcher | RSS | More
Jim talks with Gary Bengier about his science fiction novel Unfettered Journey, depicting a hard-science view of a possible world 140 or so years in the future…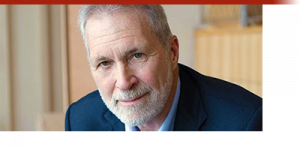 Jim talks with Gary Bengier about his science fiction novel Unfettered Journey, depicting a hard-science view of a possible world 140 or so years in the future. They discuss the need for sci-fi that addresses real problems & that is grounded in real science, the coming impact of bioscience, AI, & robotics, why robots may take longer to become ubiquitous than many think, Gary's sci-fi take on ubiquitous robots, a future of lots of stuff & not much human labor, what happens when robots make robots, capitalism's obsoletion point, neural chips, estimating AI progress, whether AGI is necessarily linked to consciousness, intentionality as the mark of mentality, the Fermi paradox, the novel's level-based social hierarchy, self-consciousness vs consciousness, symbol use, semantics (not syntax) as central to the human mind, the devil's offer of surveillance systems, reimagining the Adam & Eve story minus God, and much more.
After a career in Silicon Valley, Gary pursued passion projects, studying astrophysics and philosophy. He's spent the last two decades thinking about how to live a balanced, meaningful life in a rapidly evolving technological world. This self-reflective journey infuses his novel with insights about our future and the challenges we will face in finding purpose.
Before turning to writing speculative fiction, Gary worked in a variety of Silicon Valley tech companies. He was eBay's Chief Financial Officer, and led the company's initial and secondary public offerings. Gary has an MBA from Harvard Business School, and an MA in philosophy from San Francisco State University. He has two children with Cynthia, his wife of forty-three years. When not traveling the world, he raises bees and makes a nice Cabernet at the family's Napa vineyard. He and his family live in San Francisco.