Subscribe: Google Podcasts | Spotify | Stitcher | RSS | More
Jim talks with CEO Jeff Gomez about working on movies, games & media, transmedia storytelling, fandom, working with the US gov, propaganda, Game B, and much more…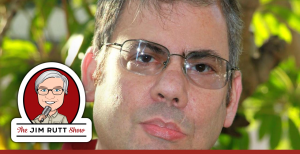 CEO Jeff Gomez and Jim have a wide-ranging talk about Jeff's work with massive movies like Pirates of the Caribbean, his work with transmedia storytelling & worldbuilding, how nerdy Jim really is, how narrative & story differ & the role the audience plays, fandom, the perennial Star Wars vs Star Trek question, the far reaches of fan fiction, Jeff's work in Collective Journey & its broader connection to the internet & politics, the hero's journey & its 'Hollywood'ization', how Jeff's interest in narrative led him to work on transmedia & geopolitics with the Department of Defence & other government agencies, understanding & fighting malicious cultural propaganda, the connection between Putin & Trump/Bannon strategy, Extinction Rebellion, speculation about the future of Gen Z & tribalism, social coherence, Jeff's advice for the Game B community about using narrative, personal development & media literacy, and online vs in-person relationships & collaboration.
Mentions & Recommendations
Jeff Gomez, CEO of Starlight Runner, is a leading expert in the fields of brand narrative, story world development, creative franchise design, and transmedia storytelling. He specializes in the expansion of entertainment properties, premium brands, and socio-political themes into highly successful multi-platform communications and international campaigns. As a producer accredited by the Producers Guild of America, Jeff also develops the story worlds of films, TV shows, videogames, toys, books, comics, apps, virtual reality projects, and theme park attractions.
Jeff's pop culture work has impacted such blockbuster properties as Disney's Pirates of the Caribbean, James Cameron's Avatar, Hasbro's Transformers, Sony Pictures' Spider-Man and Men in Black, Microsoft's Halo, and Nickelodeon's Teenage Mutant Ninja Turtles.