Subscribe: Google Podcasts | Spotify | Stitcher | RSS | More
Nancy Hillis & Bruce Sawhill talk to Jim about the similarities of complexity science & art: emergence, order & chaos, luck, and much more…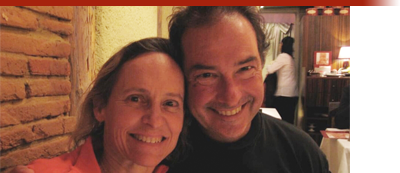 Nancy Hillis & Bruce Sawhill talk to Jim about the commonalities & dynamics of complexity science & art: innovation & imitation, breaking rules, inseparability, phase transitions, combinatorics & restraints, aesthetics, process vs result orientation, simplicity, paradox, uncertainty, emergence, navigating the edge of order & chaos, known unknowns & unknown unknowns, making space for luck, and much more.
Mentions & Recommendations
Bruce Sawhill is CTO and Co-Founder of Personal Airline Exchange, a startup per-seat on-demand air travel service for short flights between small airports in extended urban areas. He earned his B.S. degree in Physics, his B.A. in Music (organ performance and composition), and his PhD in Physics all from Stanford University, He was a postdoc at the Santa Fe Institute, working with Chris Langton and Stuart Kauffman. Bruce is currently writing a book with his partner Nancy Hillis, MD on the connections between evolutionary biology, complex adaptive systems, and creativity in the arts. In addition to his CTO duties, he gives regular organ recitals and swims long distances in the ocean without a wetsuit. Bruce and Nancy make their family home in Santa Cruz, CA.
Nancy Hillis, MD is an artist, speaker, Stanford-trained psychiatrist and author of the best-selling self-help book The Artist's Journey: Bold Strokes To Spark Creativity. as well as The Artist's Journey Creativity Reflection Journal. Nancy guides artists to create their deepest, most authentic art through her signature approach, which combines art and psychiatry. She's helped thousands of artists transform their work from the inside out, operating from the conviction that artistic creation has as much to do with psychology as it does with paint and canvas. Nancy studied under renowned psychiatrist, Irvin Yalom, MD at Stanford and has been featured in Inc. magazine and The New York Observer. Her book The Artist's Journey: Bold Strokes To Spark Creativity was named one of the Top 100 Creativity Books Of All Time by BookAuthority. Nancy lives in Santa Cruz, CA with her partner and daughter.